THURSTAN-ISIPATHANA 49 CRICKET ENCOUNTER PLAYED AT SSC GROUNDS ON FEBRUARY 24TH & 25TH
Thurstan skipper Sanjeewa Salgado winning the toss invited Isipathana to bat.
Thinking behind his decision was that the wicket was not covered by the SSC authorities and there was a tinge of grass which is normally not found in a SSC wicket, The Captain expected his 2 fast bowlers to exploit the conditions, but unfortunately they strayed in both line & length could not make use of the lift & movement which was available.
Isipathana opening pair batted cautiously and put on 72 runs by lunch off 36 overs. First over after lunch produced a wicket for Thurstan and in came the vice captain, the left handed Deshan Jayakumar who scored 73 in the last year?s big match. He settled in quickly and both he and left handed Sanka Thabrew batted in a technically correct manner and took the score to 145 for 1 wicket by tea, batting a total of 71 overs and 280 min. Slow going just over 2 runs and over & Thurstan maintained a healthy over rate.
After tea Isipthana accelerated their scoring rate, but it was still pedestrianly slow and when play was surprisingly stopped by the umpires at 5.15 PM with another 25 min for close of play Isipathana had scored 256 for 5 wickets in 99 overs and 380 min batting time with Jayakumar scoring a well deserved century to be unbeaten on 100.
In the post tea session Isipathana lost the wicket of Thabrew for a well deserved 85 runs his first 50 for the season. Thurstan was able to capture the wicket of Isipathana Skipper, the hard hitting Harith Wanigaarchchi for 1 run when the off-spinner Jaleel held on to powerful drive of his own bowling. Harith was the star batsman of the side scoring over 800 runs in the season with a century to his credit.
Surprisingly the under dogs Isipathana continued batting on the second day, the first time it had happened in this series of 49 matches that side continued to bat on the second day. Isipathana who were on 256 runs for the loss of 5 wickets managed to add on a further 51 runs to end their innings on 307/9 in 108.5 over?s which was one run short of their series highest score of 308 for 9 made in 2005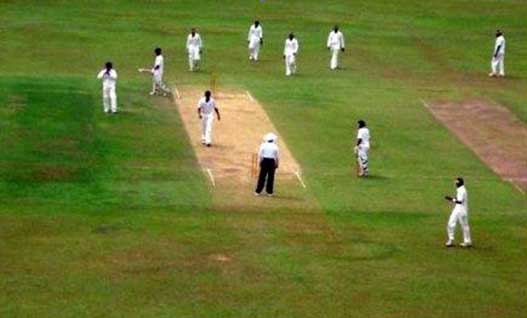 Isipathana deputy skipper Deshan Jayakumar resuming on his overnight score of 100 not out went on to score 126 runs while Pawan Anjana ended with 12 on day two. Jayakumar who put on a solid 2nd wicket stand of 109 with Sanka Thabrew during the first day ensured that he took his side to safe shores on day two adding 26 runs to pass the 450 run mark for the season. He seems to be a batsman for the big occasion. Minhaj Jaleel tormented once more with his off spinners but failed to capture a wicket. However right arm medium pacer Kavindu Silva added a solitary wicket to his overnight wicket tally to end on 2 for 46.
Favourties Thurstan College in their first innings mustered a formidable 331 runs for the loss of 9 wickets in quick time. It took them just 85.3 over?s to set up a good score and skipper Sajeewa Salgado muscled his way to another century 114 with 18 -4?s to take his tally of centuries to 5 for the season and his tally up to 1183 runs. Salgado starting his innings with his personal tally on 1069 runs went on a rampage to take the opposition bowling apart with some destructive batting which laid the foundation for the Thurstanites.
Opening batsman Minhaj Jaleel who had a good appearance with the ball gave a concrete start scoring 30 runs while adding 68 runs in 10 overs with the diminutive wicket keeper Sahan Hewavitharana 34 who was explosive with his drives and cuts over the cover fielders. Salgado had a stand of 138 with south paw Ramindu Kumarsinghe for the 4th wicket before retiring soon after his century with cramps and came back after the fall Kavindu Silva?s wicket. Kavindu Kulasekera scored 51 held the side together to take their team to a first innings win
When Ramindu fell at the score of 222, the 4th wicket stand was 144 which is record for Thurstan eclipsing the record of 114 held by Kamal Mahendra [ 146 * ] & Gamini Nanaykkara [ 60 ] in 1990, when Thurstan registered the first of the series triple triumphs in 1990 -92.
The Pathanians relied a lot on their experienced captain to take wickets on a flat batting track and Harith Wanigarachchi came good for his team finishing with figures of 4 for 84. The left arm leg spinner together with his bowling partner Sidath Mallawarachchi claimed the bulk of the wickets while medium pacer Charith Rajapakse ended with 2/59.
It was a stale draw once more at the 49th encounter with the last win of the series coming 12 years ago in 1999. Thurstan last won the big match in 1992 under the captaincy of Mackenzie Perera while Isipathana won in 1999 under the leadership of Krishantha Jayawardena.
The crowed come to see results and to see records being broken, It is up to Isipathana to take the Challenge offered by Thurstan to limit the First Innings to 60 overs per side, so that one side could work towards a decision.
There were many batting records broken
First time that both sides topped the 300 run mark
First time, a players from both side scored centuries
Thurstan scored the highest total of 331 for 9, their highest and also the series eclipsing Isipathana score of 308 for 9 declared made in 2005.
The most dubious records is Isipathana Continuing to bat for nearly one hour on the second day, which had never happened in the past 49 years !
Priya Paranavitane
Thurstan vs Isipathana
49h Cricket Encounter Played at SSC grounds
on February 24th & 25th, 2012
Isipathana 1st Innings
Sanka Thabrew
b Perera
85
Salinda Ushan Perera
Lbw
b Silva
26
Deshan Jayakumar [ V Capt ] ( 232 min, 1-6,11-4 ) run out
126
Harith Kalindu Wanigarachchi [ Capt ]
c and
b Jaleel
1
Mathesha Ranaweera
st Hewavitharana
b Jaleel
25
Charith Rajapaksa
b Jaleel
0
Pavan Anjana
c Jaleel
b Chanuka Wijeratna
12
Malin Dias
c Jaleel
b Silva
6
Kaminda Dhananjaya
not out
1
Sidath Mallawaarachchi
\
Gihan Avishan
Extras
b-14,lb-3,nb-3,w-5
25
Total
8 wkts dec
307
2 1 4
5 6 3 8 7
108.5 overs
Fall of Wickets
72, 181,182, 251, 251, 291, 305, 307
(439 min)
Bowling
O
M
R
W
Kavindu Silva
17
3
46
2
Chanuka Dulan Wijeratna
8.5
0
35
1
Minhaj Jaleel
28
7
63
3
Ramindu Kumarasinghe
19
3
52
0
Tharindu Silva
2
0
3
0
Rajitha Perera
24
5
61
1
Kavindu Kulasekara
6
2
11
0
Avishka Peiris
2
0
10
0
S Salgado
2
0
9
0
Thurstan 1st Innings
Minhaj Jaleel
c Navishan
b Wanigarachchi
30
Sahan Hewawitharana
c Anjana
b Mallawaarachchi
34
Ashan Wanigaratna [ V Capt ]
b Dhananjaya
4
Sajeewa Salgado [ Capt ] ( 123 balls,18-4)
c Jayakumar
b Mallawaarachchi
114
Ramindu Kumarasinghe
b Wanigarachchi
35
Kavindu Kulasekara
c Mallawaarachchi
b Rajapaksa
51
Kavindu Silva
lbw
b Wanigarachchi
9
Tharindu Silva
c Jayakumar
b Wanigarachchi
27
Avishka Peiris
c Ranaweera [ wk ]
b Rajapaksa
3
Rajitha Perera
Not Out
8
Dulan Chanuka Wijeratna
Not out
0
Extras
b-7,, nb 8,w 1,
16
Total
9 for
331
1 2 3 5 7 4 8 9 6
85.3 overs
Fall of Wickets
68, 68, 78, 222, 234, 252, 305, 312, 326,
(382 min)
Bowling
O
M
R
W
Charith Rajapaksa
10
1
43
2
Malin Dias
11.2
1
54
0
Gihan Navishan
2
0
22
0
Harith Wanigarachchi
27.3
3
84
4
Sidath Mallawaarachchi
19
2
59
2
Kaminda Dhananjaya
11
0
45
1
Salinda Ushan Perera
3
0
8
0
Deshan Jayakumar
1.4
0
9
0
Man of the Match
Deshan Jayakumar
Best Batsman
Sajeewa Salgado
Best Bowler
Minhaj Jaleel
Best Fielder
Deshan Jayakumar
Umpires
T H Wjewardana
Pradeep Udawatta