A Western Band was inaugurated in 1982 at the primary school by Miss Kumuduni Perera, with 40 members. The band was reinstalled by Mrs. Carmen De Silva in 1993.
-Junior Western Band in 1993-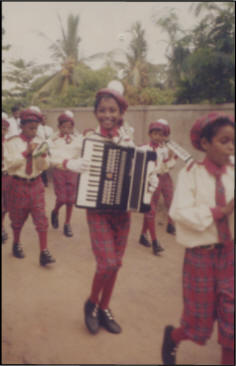 The Junior Western Band was re-inaugurated in the year 1997 by the Teacher in Charge Mrs. Kumudini Dalpatadu.
Thurstan College Junior Percussion Band 2002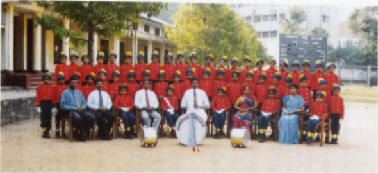 From Left to Right Seated – Teacher in charge Mrs. Kumuduni Dalpatadu, Leader Shanaka Perera, Deputy Principal Mr. R. M. Jayasekara, Principal Mr. R. D. M. P. Weerathunga, Deputy Leader Divantha Udara,, Deputy Primary Principal Mrs. H. A. A. Abepitiya,
Middle Row – Kushal Dilshan, Tharidu Shanilka, Chamode Jayasooriya, Dihan Karunarathne, Indul Welimanna, Danushka Bandara, Lakshan Wananasinghe, Nipuna, Vindike, Tharidu Kelum, Dulaj, Varuna Lakmal, Ifrad Aziz.
Back Row -Sandaka Cabral, Gayan Lasantha, Pushpika, Aroshana, Lakshan De Soysa, Rajith Hasith, Gajitha Vibuthi, Kemitha Jayamaha, Omesh Perera, Ramith Jayasooriya, Dimanke Salgado, Pasidu Tharanga, Chamila Madshanka, Sanddaru, Chanuke, Priyashan, Duleepa Waranjeewa, Mahesh Thimira, Tharidu Shanilka.