Thurstan looking to repeat last year's success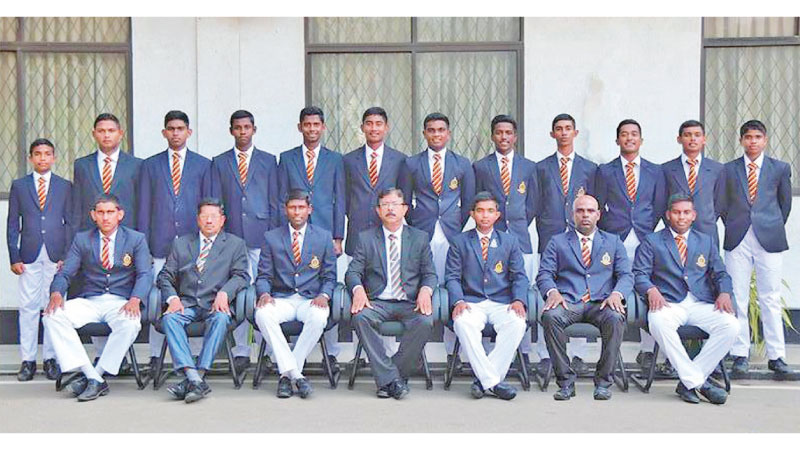 Thurstan College who came out victorious last year after 27-years under the leadership of Sandaru Dias will be seeking for a repeat of that performance when they clash with traditional rivals Isipathana College in the 57th 'Battle of the Brothers' cricket encounter scheduled to take place on February 28 and 29 at the Sinhalese Sports Club (SSC) grounds with play commencing from 9.30 am each day.
Thurstan leads the series with six wins against Isipathana's four. This encounter will commence the start of a series of Big Matches that will follow in the weekends to come.
Thurstan will be skippered by third year coloursman Jayavihan Mahavithana who made a century on debut. He will strengthen the batting department having scored 613 runs inclusive of three half centuries.
Thurstan gained three outright wins out of 13 matches played this season against Maris Stella, Lumbini and St. Thomas' Matara. They also won six occasions on first innings and lost four on first innings.
Third year Yohan Liyanage has scored 503 runs inclusive of two half tons and bagged 46 wickets. He will play a major role as an all-rounder while centurion of previous year's encounter Avishka Kaushalya will be backing him with 350 runs and 11 wickets.
Right-handed batsman Ranesh Silva who has passed the 400-run mark and will be given fullest support to his team as wicket keeper. Another versatile player Bawantha Jayasinghe piled up 332 runs and captured 12 wickets while right handed Dananja Silva has scored 243 runs inclusive of one half century and bagged 20 wickets.
Seasoned campaigner and centurion Sanath Nandinu (245), Theneth Prabuddha (237), Vihanga Jayanama (206) and Prasanna Pushpakumara (190) will also contribute to uplift the scoreboard.
The Thurstan bowling will rely on spinners spearheaded by leg spinner Punthila Pushpakumara who has claimed 64 wickets. He has obtained 10 wickets in a match on two occasions and has six five-wicket hauls. Spinners Vihash Thewmika, Bimara Ranathunge, Navindu Fernando, Hirudith Hemachandra, Prasanna Pushpakumara, Dananja Silva, Yohan Liyanage and pacies Bavantha Jayasinghe and Avishka Kaushalya will support him to keep the opponents to a lower total.
Thurstan College Head Coach Thamara Abeyratne said, "I have coached the team since 2018 and I happy to say we gained a victory in 2019. We have a well balanced side and our three under 15 players will play in this encounter. I think they will give their fullest contribution to the team. We expect to give a good challenge to the opponents and looking for a repeat of last year's victory." Leslie Harischandra is the master-in-charge of the Thurstan team.