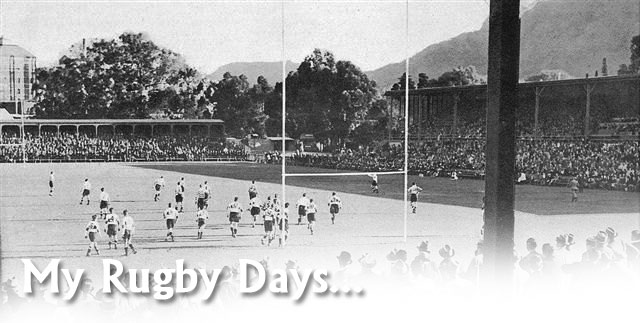 My Rugby Years at Thurstan by – Dushyantha Samarasekera
When I started attending rugby practices in 1960, I was just 13 years old. The master-in-charge of rugby at the time was Mr. A.B.J.L. Fernando and the 1st XV Captain was Nihal de Silva. I went for practices with the hope of either playing for the U-15 or U?17 team, but unfortunately we could not find enough players to form either team. However, I continued to attend practices regularly until the end of the season.
At the time Thurstan College used to practice at the CH&FC grounds at the Race Course on Reid Avenue. CH&FC had two rugby fields ? one of which was the best rugby field in all of Asia ? we were given the opportunity to practice on the second field. We also had the good fortune of having the services of then famous referee ? Brian Mills ? to coach our team that year.
In 1961, I continued to attend practice and the same trio headed rugby at Thurstan ? captain ? Nihal de Silva, coach ? Brian Mills, and MiC ? Mr. A.B.J.L. Fernando. This year we had enough players attending practices and although we were unable to form a U-15 or U-17 team, we were able to include a 2nd XV team, and a few schools like Royal, St. Peters, and St. Joseph?s gave us games before the senior game. I was glad to have been able to play in most of those games.
In 1962, the captain was Raja Weerasekera and the team was coached by the famous CR&FC centre three quarter ? Kavan Rambukwella. This year the MiC of rugby was Mr. Athula Ratnayaka and the numbers at practice had definitely increased. There were days when Kavan took us to the CR&FC main grounds for practices and we also had the opportunity to play against some of the top ranked players at the time who gave us good opposition. Some of them even treated us with soft drinks after practices! This year I was able to play for the 1st XV side in every game and at the end of the year was awarded rugby colours. This being my first year with the 1st XV side, I really enjoyed playing alongside some great players ? we won a few games as well.
The year 1963 was a memorable year for rugby at College under the captaincy of that dashing wing forward ? Deepal de Soysa. We were coached by another CR&FC centre three-quarter ? Noel Bevan ? who subsequently migrated to Australia at the end of the rugby season, and again the MIC of rugby was ? Mr. Athula Ratnayaka. We beat most of the big schools and if I remember right, only lost to Trinity College up in Kandy as they refused to travel down to Colombo to play us. I can well remember that the first game was against St. Peters College and we beat them well. The next game was against St. Joseph?s and in this game I fractured my wrist and had to leave the field in the middle of the second half ? we won this game as well. After the game I was taken to hospital where my arm was set in a cast and advised to rest for three months. We were scheduled to play Royal College two weeks after and under no circumstances was I ever going to miss that game, so I cut the cast off my arm and went to the local Veda Mahattaya who wrapped a ?pattu? around my wrist and I played the game against Royal ? which we won. I continued to play the rest of the season with the ?pattu?!!!!! It was a memorable year of rugby for me and I enjoyed playing with great players like ? Deepal de Soysa, Ranjith Jayawardana, Wimal Kulatunga, and Indra Piyatissa ? just to name a few, and many others.
In 1964 the captain was Srinath Gunasekera and we were fortunate to obtain the services of Kavan Rambukwella to coach us again. The MiC of rugby, once again, was Mr. A.B.J.L. Fernando. Practices continued to be held at the CH&FC grounds and occasionally Kavan would take us for practice to the CR&FC grounds as well. We had another good season winning quite a few games.
After leaving College, I coached the Thurstan rugby teams from 1979 to 1981 ? thereby enabling me to give some rugby back to my Alma Mater.
I wish to take this opportunity to pay tribute to the following who have passed away since our memorable rugby days at Thurstan ? Kavan Rambukwella, Deepal de Soysa, T.N. Cutilan, Indra Piyatissa, L. Kumarage, Lional Wickremasekera, E.K.R. Wijewardhana, Gamini Pathirana, Watson de Silva, and any others whom I may have missed ? may their souls rest-in-peace and may the turf lie gently over them.
In conclusion, I wish to thank the old boys for their continued support to rugby at Thurstan College ? keep up the good work!
Dushyantha Samarasekera (Dushy)
Vancouver, BC, Canada
2007 March