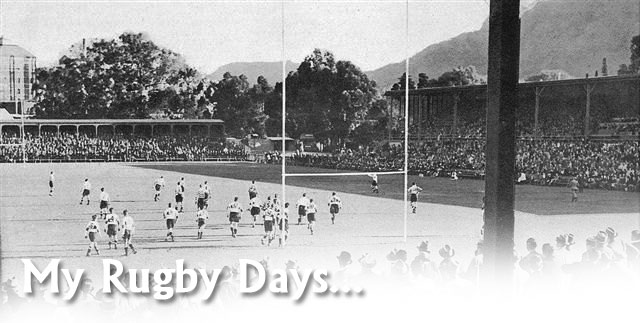 My Rugby Days at Thurstan
By Vernon Caldera – 2007 March

I began life at Thurstan from the kindergarten in 1950 and my interests were not much in the class room even from early days. I loved cricket and had no difficulty in getting in to the under 14 team at the first ever opportunity, in junior cricket we played with most leading schools and fared very well. However, I developed a liking to Rugby and this was not surprising as most cricketers were in the Rugby team too.
I was also inspired by two pioneers of Thurstan Rugby from my neighborhood Surath Wickremasighe (Our first Captain 1957 & 58) and Jeff Rutnam (who skippered Sri Lanka) to whom we owe much for the strong foundation for Rugby. As T M K Samat another of the pioneers & one of the greatest scribes once wrote Thurstan was then an "L" shaped school and the going was not easy. Not very well known in the rugby circles sans a play ground or old boy support every thing was tough from practicing in the corner of the old Racecourse and obtaining fixtures, and personalities like Surath will be hard to forget for their courage, determination and leadership that paved the way for us to recognition..

My first big year in Rugby was in 1962 when I got in to the 1st XV under Rajah Wirasekera (now domiciled in Germany) and our happiest moment was when we surprised Colombo with a superb win over St Peters and this did give us lot of encouragement. In 1963 we probably fielded the best ever team we had by enjoying a magnificent season losing only to Trinity in Kandy. It was a superb well knit team that was always together both on & off the field excepting in the class room! The team had six classy players and Deepal de Zoysa was the captain, Ranjit Jayawardena was the vice captain Indra Piyatissa was the secretary. The fact that Deepal, Ranjith, Indra and Srinath Gunasekera were picked to represent the Colombo Schools (then dominated by Royal, St Peters & Zahira) and Ranjith was elected as captain for the prestigious Gratiaen cup between Colombo & Up-country Schools, speaks of our team.
Indra's house was just opposite the college and it was our centre of operations. We practiced mainly at the Race course (Old CH & FC) and University grounds, and Indra as an efficient secretary organized many fun filled outstation matches, Our coaches were two of the best at that time Brian Mills & Kavan Rambukwella. Our trips had many interesting anecdotes; Let me share only a few that could be published!! Our first friendly was against Navy at the Dockyard in Trinco and we boarded the train from Colombo Fort, when stopped at Maho, Deepal whose father was the Station Master got a bright idea that we should move on to 1st Class, we jumped at the idea & followed him but our fun was short lived when the Ticket checkers stormed and it was simply luck & persuasion that saved us from being taken to the Police. Next was a match against Kandy Lake club (then playing in Clifford cup) at Bogambara, we were put up at Queens then one of the best hotels in the country our heavy meal extended the post lunch snooze and when we woke up, it was the time for the match, we ran to the grounds and were beaten soundly only to get a good leathering following day from our usually calm MIC Athula Ratnayake and was lucky to escape from further punishment from Principal Late Mr. M. D. Gunewardena.
School season was terrific & we really played hard that put the opposing teams at bay. I still remember well the Zahira (then a leading team) match where Ranjith Jayawardena after collecting a kick punted ahead collected his own punt and dashed over to score a brilliant try that made us winners. Next was the Royal match at University grounds where we were up against strong Royal Team, match was played at a terrific pace and scores were nil all for most part of the game when Ranjith Jayawadena scored another brilliant try to be converted by Full back Senaka Jinadasa to give us a truly memorable victory & we became instant heroes . Last match was against star studded St Thomas' Mt Lavinia at the Race course. Deepal who played as wing forward was a fiery tackler who had a tendency to go for the ankle and the match was barely few minutes old when Deepal sent the Thomian captain Mohan Samarasonghe playing at fly half off the field with a bone crunching tackle.. Being a rainy day, in front of a large crowd neither side has scored when almost at the long whistle in semi darkness yours truly dived through the legs of Thomian scrum half Tony Sirimanne (who later on coached Thurstan) for a try, but to our disappointment try was disallowed and the referee who was our coach called off the match stating the lines were not visible and the crowd was encroaching the field.
The team as I remember (with apologies to memory lapses) as follows
Front Row- Wimal Kulatunga, Indra Piyatissa, Susantha de Silva
Second Row Dushyantha Samarasekera, Bobby Senaweera
Third row Ranjit Jayawardena, Vernon Caldera, Deepal de Zoysa
Halves- Srinath Gunasekera & Lionel Wickremasekera
Three Quarters- Vasantha Jayawardena, "Baba" Fonska, Ananda Karunaratne & T. N. Fernando
Full back Senaka Jinadasa.

Stand byes were Mahinda Wijayaratne, Mangala Ratnayake, Mahinda Seneviratne, K L Perera, Lal Kumarage, G Kularatne, Sunil Jayakody & J Rodrigo as I remember.
Unfortunately Indra Piyatissa, Deepal de Zoysa, Lionel Wickremasekra and Susantha de Silva are not among the living today.

At the end of the season, Ranjit Jayawadena walked in to Havelocks team, Deepal and Dushyantha joined CR while the rest of us who were leaving school went to form the nucleus of the 1st ever NCC Rugby team. Well, we enjoyed our Rugby days, made many friends and even after four decades we are still very much linked together.
I am delighted by the initiative taken by Sarath Weerasuriya to regroup the past Rugby players and wish Chula Dharmadasa a former National player cum selector and young Suranga Kulawickrema all success in their efforts to build up Rugby at Thurstan.
VERNON CALDERA represented Thurstan in Rugby, Cricket and Table Tennis and on leaving school joined NCC representing them in Cricket, Rugby Tennis & Hockey. Latterly he played for Nomads & CCC. On retiring from active sports Vernon became an outstanding Golfer and a Squash Player until an injury forced him out of sports.