Mr R M JAYASEKARA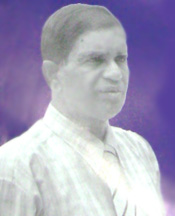 Mr R M Jayasekara bade goodbye to Thurstan after 35 years of dedicated service in August 2007.
Mr Jayasekara joined Thurstan in 1972 after completion of his tertiary education in Sri Jayawardanapura University . He was at the University in the turbulent period of the first Insurrection of 1971. This University was a hot bed of violent student agitation and many of his batch mates have shed those violent student politics and now in the main stream Political parties either holding or held Ministerial post on either side of the political divide.
I am sure knowing Mr Jayasekara he would not have been part of these radical student movement.
He commenced his teaching career at Thurstan during the tenure ship of Mr Pandithasekara as the Principal . Mr Pandithasekara was a very mild person; perhaps Mr Jayasekara has some of the mannerism traits of his first Principal . He served 5 Principal in his tenure at Thurstan and finally serving as the Principal for 10 months prior to his retirement. It would not be wrong to say that he was the solid pillar whom all them leaned to get the many things that a Principal has to do in running a school.
Mr Jayasekara's appointment to Thurstan was to a give a boost to the Commerce section which has just commenced at Thurstan. He not only led from the front but his teaching skills enable many students to enter the Universities to follow courses in Management & Accountancy. Many of his students are now holding high positions in Universities, Mercantile & Government sectors and they in one voice are grateful to Mr Jayasekara for laying the foundation for their success.
But during the later stages at Thurstan he could not devote his time fully to teaching as he was involved as the Deputy Principal in the administration work in the school. This was clearly reflected, as the intake to Universities in the commerce stream showed a gradual decline from the highs of the 70's & 80's.
Mr Jayasekara was more or a less a permanent member of the Year 1 admission board for the last 3 decades. He was so familiar with the addresses of the locality he could more or less by instinct could say that from this address students are 'admitted every year "!
The one aspect of Mr Jayasekara's departure will create is his uncanny ability to remember names of say 80 % of the students who have gone through the portals of Thurstan during his tenure. During his long tenure he got to know Thurstanites of the "previous "generations also .Hence he has become "computer hard disk" of old Thurstanites. This is a void which cannot be easily filled.
During our period at Thurstan we had the late Lt Colonel Kingsley Fernando who also a fountain of knowledge of Thurstanites of the 50's & 60's. Both joined Thurstan as bachelors spent long hours at Thurstan, of course in Mr Fernando's case he was the Master in charge of so many games. They were at certain stages, Teacher in charge of Prefects and Master in charge of Discipline. Both had the uncanny ability to interact with students and hence they were very popular among the students of their respective era.
Let me conclude this tribute to Mr Jayasekara.
Sir! Thank you for all you have done for Thurstan. Hope your tenure at Thurstan carries many fond memories! Let it not be a " good bye " but be "au revoir " till we meet at the next Thurstan function.
May you be blessed with good health, happiness in your retirement. Hope you will be provided with avenues to get involved with Education activities in your leisure time
Priya Paranavitane
(Old Boy of the 50's & 60's)