MAS HOLDING WINS PRESIDENT CHALLENGE TROPHY FOR THE FIRST TIME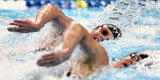 The fifth Annual Mercantile Swimming Championship for the President?s Trophy organized by the Thurstan College Aquatic Club in Association with the Sri Lanka Amateur Aquatic Sports Union (SLAASU) was successfully worked off on October 16, 2011 at the Thurstan College Swimming Pool Complex.The Following were the Winners and Runner-up
The winners 2011 President's Challenge Trophy
Champion – MAS Holdings
1st Runner up – John Keels
2nd Runner up – Unilever's
President Mahinda Rajapaksa, perhaps reminiscing his happy childhood at Thurstan and an athlete of Public School fame decided to donate the ?President?s Trophy? to mark yet another memorable chapter in the history of sports at Thurstan. The inaugural Championship in 2007 was a tremendous success with large participation, and was won by John Keels Holdings while Sri Lankan Air Lines became the worthy runners up. The John Keels Holdings continue to dominate the competition in subsequent years as well by winning the coveted Challenge Trophy This year the organizing committee made elaborate arrangements to add many new features to attract a large number of Swimming Enthusiasts from the Mercantile Sector.
Thurstan College was set up as a Government institution in the early fifties to cater to the overflow of admissions to Royal Primary school. It?s founder Principal, Douglas Earle Allan Shockman took lot of pains to instill public school values to this fledgling school. The house system, athletic meet, prize giving etc. soon gave a sense of pride to youngsters, most of whom came over from the adjoining Royal Primary School. This background no doubt saw a remarkable upsurge in the sporting activities of Thurstan and in no time they began hitting the headlines in Cricket, boxing and rugby.
Swimming during this era was by no means a popular sport among the schools and the available facilities were few, with only schools like St Joseph?s College, Maradana and S. Thomas? College, Mt. Lavinia having their own swimming pools. However, Thurstan too took a plunge in to this sport in the early sixties with boys going over to the St Joseph?s, pool for their training in swimming. The task of overlooking of swimming at Thurstan fell in to the hands of a young school teacher, Addison de Silva who later on became a leading icon in the National swimming arena and continued his inspiring addiction to swimming until his sudden demise in the late eighties.
Though lacking in basic facilities, the enthusiasm was high among the young Thurstanites who took the plunge and in 1964 they produced a prodigy in Gavin Amarasinghe who broke in to fame with a record breaking win in the then highly popular annual ?two mile? sea swim and followed up with an equally masterly display to win the ?six mile? event too. Gavin who was Thurstan?s swimming captain in 1964 repeated his championship feats for two more years. Another was Ravindra de Livera (passed away just two years back in USA) who excelled in public schools meets and also represented Sri Lanka.
Thurstan?s landmark year in swimming however was the year 2000 when the College was gifted with a six lane swimming pool with all facilities, by a distinguished old boy, Lion Graetian Gunawardhana who was a fine Rugby player during his days. Ironically, laying of the foundation stone and the opening of the Pool Complex was done by none other than another distinguished past Thurstanite and .a sportsman par excellence, His Excellency Mahinda Rajapaksa presently the President of Sri Lanka.. This is an unparalleled unique event that every Thurstanite could be proud of.
Today, swimming is a very popular sport at Thurstan with the Swimming Pool Complex managed efficiently by an independent legal entity with a Board of Management comprising many distinguished ex-Thurstanites.
Mercantile Swimming Championship 2011 essentially for the Mercantile Sector for the coveted President?s Trophy. It is open to Companies, Organizations & Banks in the Mercantile or Private Sector.The Organizing Committee of ?Old Thurstanite boys? headed by Lion Graetian Gunawardhana, the sole presenter of the Swimming Pool Complex to his beloved ?Alma Mater? and Chairman of the Swimming Pool Complex Management Company which also includes the pioneer swimmer from Thurstan, Gavin Amarasinghe for technical advise and also the present President of the Swimming Pool Complex Management Committee Maj Gen. Dr. Dudley Perera supported by many past Thurstanites from various eras of the existence of the School worked tirelessly to make it a grand event.